Do you own a cowhide rug in Sydney?
Recently Devine Rug Clean had the privilege of cleaning a cowhide rug. But it was not a straight cowhide rug. It was a wool and cowhide rug!
We estimated the value of the wool and cowhide rug at around $4,500. So it was a special accent piece of the customer's home.
The problem: We have found that the back of leather rugs get mould from sitting on the floor and sweating. This beautiful wool and cowhide rug was suffering from unhealthy and ugly mould spores.
The solution: Because there are two different materials in this rug, the wool rug component and the cowhide rug component, special knowledge is required in choosing the correct cleaning detergents as some can be harmful to the leather.
We first treated the rug with a mould eradicator.  This will not get rid of the mould marks, but will kill the mould spores and not allow them to grow. We then used our low moisture method to clean the whole wool and cowhide rug.
Ongoing care: We have recommended to the owner that once a month, the rug should be turned over and aired so that the mould will not begin to grow again.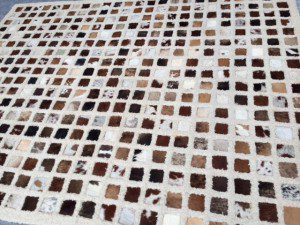 Your rug will be Refreshed, Restored and Revitalized to our Blue Ribbon Standards.
Professional Cowhide Rug Cleaner in Sydney
Cowhide rugs and carpets add a wonderful addition to any room. Bring a natural material, cowhide rugs are quite durable. But they do require regular and proper care to ensure they last a lifetime.
Some shedding is normally expected out of cowhide rugs. However, vigorously vacuuming or dusting the rug can yank out the fur and make your precious rug look patchy. Excessive heat, as well as moisture, can ruin your cowhide rugs. And there is no coming back from that.
Instead of taking a chance with your heavy-duty vacuum cleaner, get professional cowhide rug cleaning from Devine Rug Care. Being rug and carpet cleaning experts, we are knowledgeable about the right techniques and products for effectively cleaning cowhide rugs.
Have you spilled wine on your cowhide rug? Did your pet have a little accident on your fine rug? You should immediately dab the stain with a damp cloth, but avoid using any harsh chemical cleaners that can cause permanent damage. If you're unable to remove tough stains, get Devine Rug Care onboard. We use special techniques to remove stains and make your rug look as new as possible. We can help make your cowhide rug last a lifetime! Feel free to contact us for more information.